In the wake of Brexit, trading venues must tackle a new and unexpected layer of complexity when fulfilling MiFID II RTS 2 transparency requirements. Post-Brexit, ESMA has increased the data continuity checks trading venues must perform when reporting instrument reference and instrument quantitative data to it.
Any irregularities have to be accounted for and mistakes re-reported, so that ESMA can meet its timelines in publishing instrument liquidity, size-specific-to-the instrument, and large-in-scale calculations. At present, trading venues typically check their records retrospectively, on a three-month basis, against massive ESMA data files. This highly complex exercise imposes a considerable operational burden, and one which is also potentially costly.
To alleviate this burden, a trading venue can now submit a single daily file of instrument quantitative data to SmartStream Air, as part of SmartStream's Trading Venue Quantitative Reporting Outlier Reconciliation. Find out how to harness sophisticated AI-based technology to alleviate the burden of post-Brexit data continuity checks.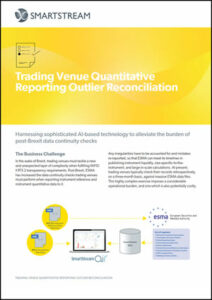 Download