Sibos 2022 internal information
.
Pre-Event Information
Travel
Accommodation
Sibos Amsterdam
The SmartStream Stand
Additional Information
Pre-Event Information
Passport and visa information
Your passport must not expire within six-months after your departure date from Amsterdam. It is your responsibility to check your passport is valid otherwise entry will be denied.
Whether you can enter the Netherlands without a visa depends on your nationality. Please check this link.
As of 17 September 2022, there are no longer any COVID-19 entry rules for travellers to the Netherlands. You can enter the Netherlands without proof of vaccination, proof of recovery or a negative test result.
Booking meetings
All meeting bookings (pre-event and on-site) need to be recorded via SmartStream's Sibos Scheduler so they can be properly resourced. If you do not have access to the Sibos Scheduler whilst on-site, please request meeting times and locations from Marketing.
Event information / Sibos App
You should have been sent your Sibos login details directly by SWIFT (Sibos Registration Office). Please take some time to look at the Sibos App or desktop version as it is full of helpful information about the conference and the exhibition.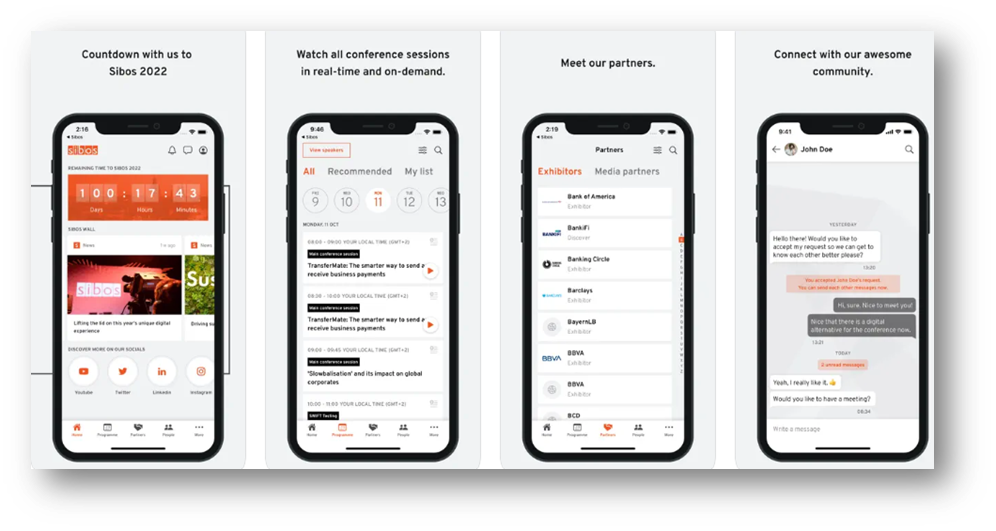 The Sibos App is available for Android and iOS mobile devices. With the App, you gain faster access to the information you need and get the latest Sibos news at the touch of a button, with numerous networking opportunities.
Participant directory – Access the full delegates list
Sibos Instant Messenger
Share business cards with other delegates
Add a participant to your personal contacts
And many other features
Google Play Store – Sibos App download
Apple App Store – Sibos App download
Team dinner
A team dinner will take place on Monday 10 October.
Please let Marketing know if you cannot attend by Monday 3 October.
Venue:
Humphrey's Amsterdam
Nieuwezijds Kolk 23, 1012 PV Amsterdam
Time: 19:30
Dress code: Casual
Travel
Accommodation
Sibos Amsterdam
The SmartStream Stand
Additional Information